This is a question I have been asked many times since I started running in September 2012. The simple answer is – I needed a change of my usual exercise routine, which consisted of yoga, spinning, and occasional Zumba.  I had just returned from a 2-week summer vacation where all my clothes were super tight and my bikini pictures – let's just say they were not very flattering.
After researching running plans online, I chose the Runner's World 8-week Beginner's program. Soon after starting training, I decided to register for the Nashua Santa Fund Run in Nashua, NH on October 28th. Once I registered, I committed to the training program. I also got fitted for a pair of running shoes at a running store. They watched me walk barefoot and told me that I was "normal footed" and needed a "neutral shoe."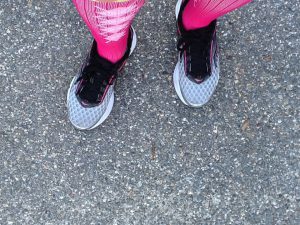 Early on, I was a bit nervous, since I had never run before and running just a little bit was so hard! I can still remember week 1 and starting out with running 1 minute/walking 2 minutes x 10. I was so out of breath and could not wait for the walking intervals. Each week I increased my running and decreased my walking – always totaling 30 minutes. I was able to complete 7 weeks before the scheduled race. I will recap my first race experience in my next post.