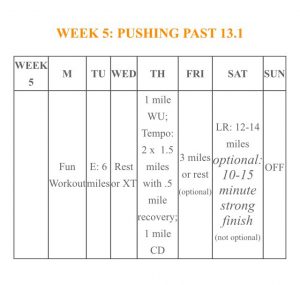 *** I made some adjustments to this week's training schedule given our wedding on Saturday.
Monday: 1 hour yoga class at the Y felt amazing and was much needed. I have been missing my twice weekly classes, so it was great to get back to it.
Tuesday: 6 easy [not so much] miles on the rail trail. I can't say this was a good run because it was muggy and the mosquitos were swarming around my face for most the way! I did use my new hydration pack which was a challenge to adjust and was cutting into my left shoulder – next time: no tank top. I did wear my new top.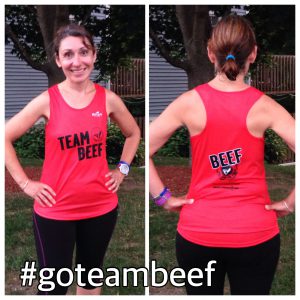 Wednesday: 45 minute Zumba class with a friend in a local park.
Thursday: 72* and sunny – My longest run to date was today and it felt amazing. My pace averaged at 11:24 and was fairly consistent until the last mile, which I purposefully sped up to 10:38. I fueled with Cliff gels and sport beans. My pack felt much better today. This is what an amazing 14 miles looks like.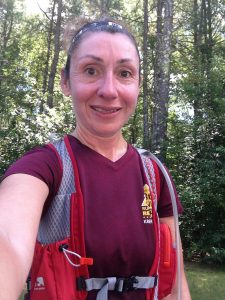 Friday: 3 easy miles – I was surprisingly not sore for this morning's run and averaged 10:30/mile.
Saturday: 64* and cloudy – I was not looking forward to this tempo run, but headed out to the rail trail where I found the parking lot to be full. Brian headed to the other lot and I met him there [1 mile]. I set out to do my first tempo interval [1.5 miles] and then he caught up to me and we ran together for my .5 mile recovery before I set off on my own again. Overall, it was not a bad run, but challenging to get up to my tempo pace [9:11]. I did manage 9:34 and 9:28 for each of the first miles of the tempo interval. It was hard to track my pace for the full interval given the .5 mile.
Sunday: Rest Day [much needed after lots of dancing at the wedding last night and not much sleep last night]