While Brian drove on Saturday, May 28th, I had a chance to read the runner's guide as well as check out the course map.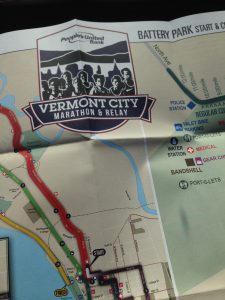 We arrived at the expo at the Sheraton at 4, met one of my 5:00 pacers, and went to the New England double booth to get my bib and shirt. There was a short line. We walked the 5 aisles and left after getting a long sleeve 26.2 in 802 shirt. It was a decent medium sized expo, but we did not spend much time there because we wanted to get settled in our hotel.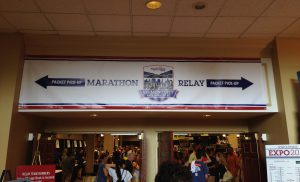 At 5:30, we checked in at the Fairfield Inn in Williston, VT, which was under renovations and had a really bad smell downstairs. The only pool was outdoors and was closed. We got an all new room, with a king bed and sofa bed, which was nice! Lessons learned – ask where the room is in relation to the elevator and the ice machine – closer is not better in this case. Luckily it was not a problem at all this time! Breakfast room was open with food at check in – cereal, milk, yogurt, fruit – coffee and cookies too.
At 6:30, we left for dinner right down the street from the hotel and had a great meal! The Vermont Tap House is highly recommended.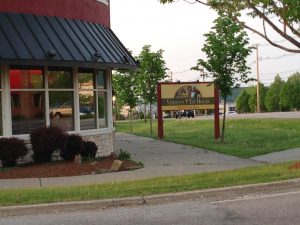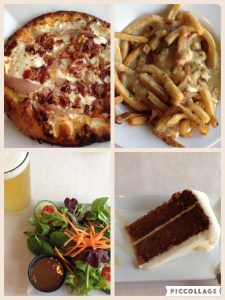 The next morning, I woke up at 5:30, showered, got a bagel and peanut butter from the breakfast area along with coffee. We left the hotel at 6:35. We parked on the street in downtown Burlington by 7am. I got my right knee taped and geared up before walking to the park near the start area. I used the porta potties twice and made it to my pace group with only 5 minutes to spare. The sun was blazing and my Garmin showed that it was 73* at the start at 8:09am. I was sweating in the first mile! The crowd support was amazing.
I stayed with my pace group until just after mile 6. I met up with 3 other runners who had also started with the 5:00 pacers, but dropped back like me. 2 were from the six03 group (April and Andy) and the other young woman – i don't know except it was her 1st marathon. Miles 4-8 on the Burlington beltline were the most challenging in terms of heat, sun, and shade. They also ran out of water. I was grateful that I had my handheld water bottle because this lasted until we saw April's fiance and he could refill it. I loved running through neighborhoods and having the residents helping us with hoses, sprinklers, and water stops. I ran with April for a few miles which was fun and we even stopped to take this picture.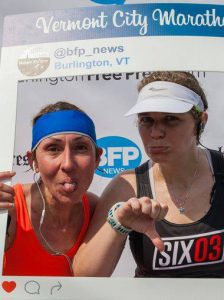 The only time I saw Brian and Brenna was when I came through Battery Park after mile 15, although they saw me another time as well.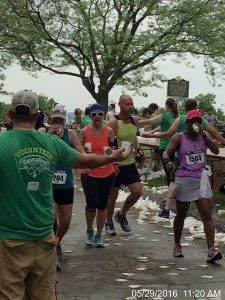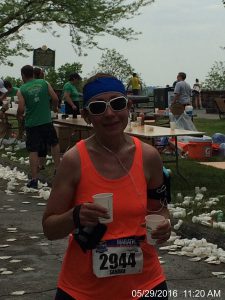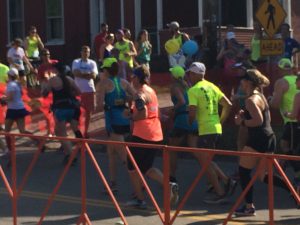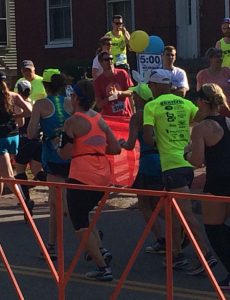 I had no issues with anything hurting and felt great until about mile 16 when I started feeling nauseous. Yes. I was hot and sweaty but I had been hot and sweaty. Unfortunately, I did not follow my training nutrition plan. Don't ask why because I don't know why. Around mile 16, I went under a fireman's hose and got completely soaked. All I could think about was my sloshing sneakers! Luckily, I didn't make it too much farther before a volunteer told us that they had black flagged the race. It was just after mile 17 on North Ave. We were given the choice to go forward to a park where shuttle buses would pick us up or go back the way we came to another water stop to get picked up. I decided to go forward. Once I was in Leddy Park [which was part of the race course], I saw people making the decision to continue on the course. I could have cut across the parking lot and rejoined the course at mile 24 on the bike path, but did not feel right about crossing the finish line without having completed the 26.2 miles. It might have been faster than trying to figure out where to get the shuttle and the waiting around.  I boarded a bus back up top on North Ave. and was taken back towards the start area, although I was dropped off in a neighborhood and had to manage to find my way to the start. Thankfully, I met a guy, Brett [I think], and we walked together. He also recommended a restaurant for dinner which turned out to be very good.  
Once I was in Battery Park, I asked where I should go to get my medal. I was told Echo, but had no idea what or where that was, so I headed to an information tent for help. They directed me to the finish line where I was supposed to get the attention of a volunteer who would give me my medal. I was stopped and not allowed to enter the finish area, so I had to get the attention of a man who had just finished. I explained my situation and he approached a volunteer who told him that they could not give me my medal. I went back to the information tent and told them that they had given me misinformation and once again asked about Echo. Brian and Brenna were actually waiting there while I was going back and forth trying to figure out where to get my medal. Once I got to the other end of the park, I saw a line of shuttle buses dropping off runners and 4 volunteers handing out medals to people as soon as they got off the bus. Ugh! I was so frustrated. My bus didn't get the memo!!!  Needless to say, I had no desire to stick around the finish area once I got my medal and reunited with Brian and Brenna. We did walk back toward the finisher's food area, but I was disappointed in the offerings.
Today, I was scheduled to complete my 2nd marathon – The Vermont City Marathon, but unfortunately, the race was cancelled due to extreme conditions and too many casualties. This is where I was stopped after completing 18.5 miles.