This certainly was a different race – only 80 teams [160 people], no shirt, hat, etc., no bib number or timing chip.  Our tiny pumpkin served as our "timing chip."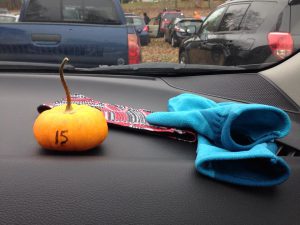 It was held on Saturday November 1st at Flagg Hill Winery at 10am. Russ met us there. It was a cloudy, cool, damp morning, hence the headband and mittens, on me.  Here we are just before the start of the race.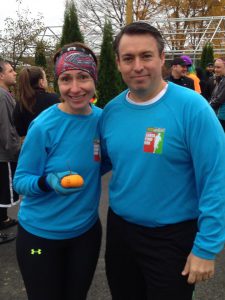 It was a 10K relay race with each team member doing 2 legs. I decided to do Leg 1 and 3 and Russ did Leg 2 and 4. This is what the first pass off looked like. They had photographers on the course, but unfortunately, many of the pics came out blurry.
We ran down a dirt road into the vineyard fields and took a right into the woods. The trail was narrow and quite steep at parts.  We were forewarned about a spot where we had to be careful of the stream down below. When I got to that spot, I knew what they were talking about. Everyone came to a stop to figure out how they were going to go down the steep hill. I was scared and decided to kind of go down sideways and then make the sharp turn at the bottom to stop myself from slipping into the trees before turning left and heading up the next hill and out of the woods into the fields again. This is how the course went – in/out of the woods.
It was a fun, yet challenging race given the terrain and weather [it started drizzling during the race, so we both got wet and cold]. I would recommend it to someone who wants a trail race with some challenges but does not want to do the full 10K distance alone.
My previous best 10K time was 55:48.
70
TORTOISE AND HARE-2
15
SANDRA
MULDOWNEY
F
43
MERRIMACK
58:31:00
 
70
TORTOISE AND HARE-2
15
RUSS
BEAVIS
M
43
MERRIMACK