When: Sunday, February 7, 2016
Time: 10:00 am
Where: Knights of Columbus, 177 Lynnfield St., Lynn, MA
My training plan sort of dictated this race as well as the next few. I quickly realized that there were virtually no races that would work [10 mile long run] with my plan. I was beginning to lose hope when I came across this one – third oldest 15K in the USA!  I thought, why not? It's a new distance for me and it fits with my plan. There was very little info about it online although he has a lot of history. This truly was a no frills race – no swag at all – none! I did have a bib with a timing chip and a start and finish timing mat, which was good. At $1/km, this race was a bargain! At the start, we were able to stay warm and use real bathrooms in the KoC hall and then at the start [Pondview Lodge] about 1/4 mile down the road.
The course description meant nothing to me since I am not familiar with the area and I could not find a good description of it. There was no elevation map either. We started out in some residential neighborhoods and made our way over to an industrial park area before crossing over 128 and into a commercial area. There were 2 water stops around miles 3 and 6 [I think] and it was an out and back course. It was 36 and sunny at the start which made for a comfortable run, but trending a bit warm.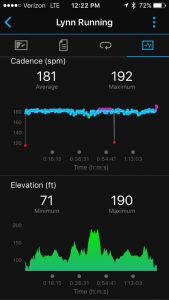 What I remember most about this course was the hills! The residential neighborhoods were hilly as were the more commercial areas and they were not small, short hills either as you can see from my Garmin screen shot. The roads were better than I expected after the recent snowfall, but there were still some icy, slushy patches that had to be avoided. Luckily, the downhills were clear so I was able to make up some time.
We finished in the parking lot of the KoC where a small group had gathered. Here are a few pics from the photographer.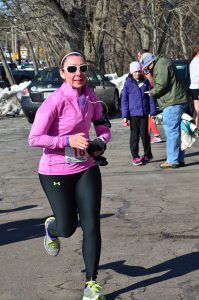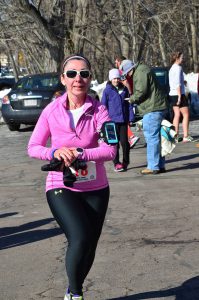 Since it was a new race distance for me, I automatically ran a new PR, which I was happy with. Here are the official results. My Garmin had me running 9.53 mi total with an average pace of 9:21.
170   18 Sandra Muldowney    44 F  12/17   F4044   merrimack   NH 1:29:07  9:34