n Irish theme 2-mile road race to precede the St. Patrick's Parade in downtown Manchester, NH
This was the 2nd race in The Elliot Millennium Running Series. My goal is to complete 6 of 8 races in the series to earn the series jacket. It was an Irish themed 2-mile race in downtown Manchester on March 30, 2014. It was a cold, damp, drizzly morning but there was a lot of energy in the air. We took pics by the truck prior to heading to the start line. October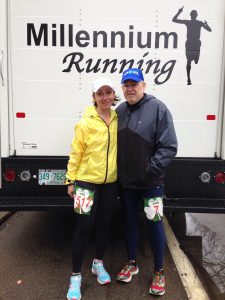 There was lots of green to be seen as we waited for the start of the race.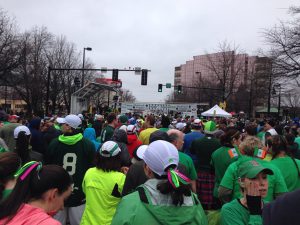 It was a pretty flat race with a downhill to start and then a flat before approaching the one hill at the halfway mark.
START ELEVATION 

224

 FT  –  MAX ELEVATION 240 FT  –  GAIN  77 FT
This race was a family affair, which I really enjoy. An added bonus are the free pics that we get. It's always fun to see how we really look.  In the first picture, I am front and center looking intently. I could not wait to finish this race because my hands were so cold.  In the other picture, Brenna, her friend (Alex), and Brian are nearing the finish line together.
Here are my results!