2014 HINCKLEY ALLEN MANCHESTER 5K – 07/03/2014
This was one of those races that I wasn't sure we'd be able to run. We had severe weather warnings for strong T-storms and gusty winds along with some tornado warnings in the area. We watched the radar and decided that it looked like it would clear in time. We set off to Manchester and the weather clearly beautifully.  I decided to run with Brenna for the first time, so Brian could run a "real" race and get a time he could use for his triathlon training plan. The last mile of the 5k runs the exact downhill route of the HASLAW Mile. The 180 foot drop in the last mile will all but guarantee a personal best 5k. I thought Brenna would be fine, but I was wrong. She started complaining at about the .5 mile mark and wanted to walk. Everything hurt her. It was so frustrating, but I tried to be patient and motivate her to run small distances. We did manage to run across the finish line and were not last! There were 659 runners.  See our results below.
Before                                                                              After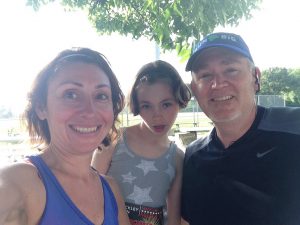 Here are the results!
MULDOWNEY,SANDRA  (170)
  Age: 43 – Overall Time: 41:33.6 – Pace: 13:23 – Overall Place: 627
MULDOWNEY,BRENNA  (482)
  Age: 10 – Overall Time: 41:33.9 – Pace: 13:23 – Overall Place: 628
MULDOWNEY,BRIAN  (642)
  Age: 47 – Overall Time: 27:26.0 – Pace: 8:50 – Overall Place: 240