Today, I ran my 13th race of 2013. It was a sunny, very cold, and windy morning, so many layers were necessary.  When I finished it was 24 degrees with real feel temperature at 7 degrees – ouch! I met up with a running friend at Martha's Exchange, where we stayed warm until just before race start. This was definitely a "low budget" race with entry fee less than $20. The bibs as well as long sleeve tees were leftover from Applefest 1/2 marathon.  It was timed, but only using gun time, not bib time, but that was okay since there were only 86 runners.
Here are Heather and I waiting for the race to start.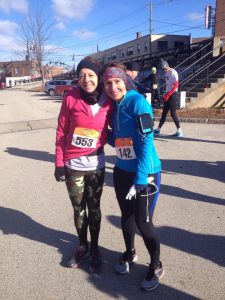 There were some "famous" folks present.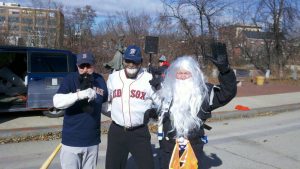 Here's the whole pack ready to go.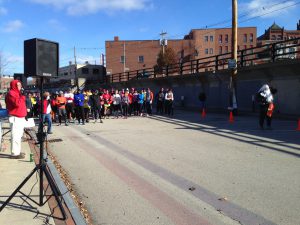 And we are off!
we started off on pavement, then entered Mine Falls Park, where we ran on wide flat trail, rocky narrow paths, and tree roots galore. There were a few hills, some steps, and sandy trails. The wind was brutal especially when we were more exposed. Heather and I started together, but much of the race was run solo. i ran most of the race chasing a women wearing a red jacket, for fear of getting lost in the woods. Once we reached a wide flat trail at approaching mile 4 (I think), I passed her, confidant that I could find my way to the finish, but  with less 1/4 mile to  go, she passed me (giving me a compliment as she went by). My goal for this race was to finish strong an uninjured, both of which I did. I am proud of completing my goal of running 13 races in 2013.
The 15th Novemberfest Trail Race was a big success with over $3000 raised for the Nashua Children's Home.
  36 F4049 SANDRA MULDOWNEY     42 F   142 MERRIMACK       NH   44:45