August 30, 2014 – 7th race in the Elliot Millennium Running series
This was one of those races that I kept telling myself was only a training run for my upcoming half-marathon, but nonetheless it was "a race." I had read the course description, checked out the elevation maps, and read some past race reports – all of which made me anxious. I tried relaxing by doing some yoga (first time bringing a mat to a race) and was spotted by one of the MR photographers. He approached me and asked me if I would mind doing some poses in front of the start line.
I love this picture of the two of us enjoying the early morning sunshine.
There were various photographers along the course, but this is the only good shot they got of me. I think it looks Photoshopped!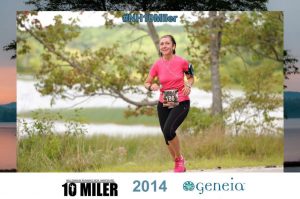 Brian got this one of me sprinting to the finish ahead of the running skirt lady, who I had been volleying with for much of the race.
I enjoyed this challenging course and would do it again, even with the hills!
MULDOWNEY,SANDRA  (186)
  Age: 43 – Overall Time: 1:37:03.8 – Pace: 9:43 – Overall Place: 237
  Top 44.8% overall (237/529)
  Top 29.2% in division (38/130)
  Top 30.8% for gender (105/341)
  Top 43.1% in state (206/478)