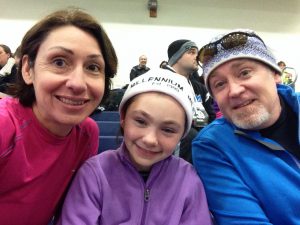 Today, I rang in the new year with the Millenium Mile race in Londonderry, NH. Brian and Brenna braved the cold and wind to run too. It was chilly – 23* at race time with real feel temp at 14*. We got our bib numbers and waited in the LHS gym until 1:45pm.
Brenna passed the time by taking silly selfies!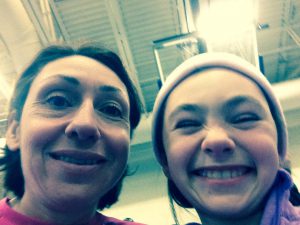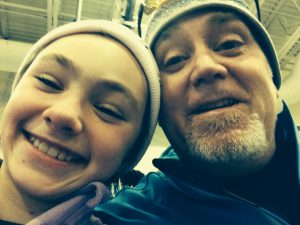 We jogged to the start to warm up and I placed myself at the 8:00-9:00 corral and was hoping for closer to an 8:00 than a 9:00 finish. Brian and Brenna placed themselves behind the 10:00 corral. This was my first race using my new Garmin 220 and so I chose to use my iPhone for music only. This was also my first time running outside with my new sneakers [New Balance 870V3] and only the 2nd time running in them at all. The horn sounded and we were off – all 1600+ people [1601 finished the race]. My breathing was off from the beginning, but I kept telling myself that it was only 1 mile. I knew I was running fast and was able to keep my pace. The course was flat and slightly downhill, which made for a very fast mile – my fastest yet!!! The only pics I have are of Brian ad Brenna finishing [both under 10:00] because no one was waiting at the finish line to take my picture.
379 21/226 F40-49 1140 SANDRA MULDOWNEY 42 F MERRIMACK NH 7:14 7:03.05