3/9/15
This past Saturday was the first time I got up and ready for a race and did not feel nervous. It was like I was just going out for a run. Mind you, I have not run outdoors since December 14, 2014 and the most I have been running in one outing is 3 miles. The weather was perfect – sunny, no wind, and 28*. I planned my outfit perfectly and got to wear a new UA headband and new Saucony running mitts, both of which were great. I chose an all women playlist, which I loved!
We arrived in Downtown Manchester about 1 hour before the race started and parked in the municipal parking lot, which had plenty of open spots and was free. Street parking was pretty difficult given the snow banks. We made our way over to Hanover St. to TI Fitness Training where there was a very small expo, free glitter tattoos and bathrooms.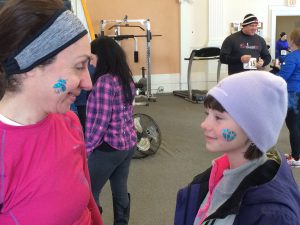 This was the 1st Annual Skirt Chaser 7k. Women took off first and men, followed 3 minutes later! Men, catch us if you can! 
We took off down Hanover St. and turned left on Elm St. The roads were not closed but I had no issues with traffic. There were volunteers and police officers at most intersections which stopped cars so we could keep running. There were two hills starting at 1.5 miles which were gradual but definitely hills [elevation gain 122/elevation loss 120]. Most of the course ran through residential neighborhoods with quiet streets. There were no spectators except for those walking on Elm St. or sitting in cars at lights, waiting for us to pass by. The lead man passed me at 4:25, which means he ran the same distance I did, in 1 minute. Crazy! This shot from behind was taken as I rounded the turn towards the finish line.  Next time I wear a tie-tutu, I will tie it in the front, so I don't have a long tail hanging between my legs by the end of the race.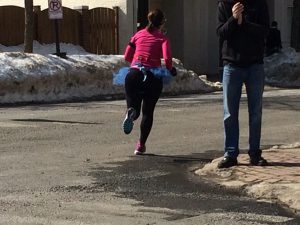 I felt good the whole way and my breathing and stride were even. My paces per mile were 8:45, 9:16, 9:00, 8:51, 7:57. At the finish, my husband told me that I did not look like I had just finished running a race. I finished strong with a sprint, but could have probably pushed myself more on the flats, where I tended to coast. Overall, this was a good first race of 2015!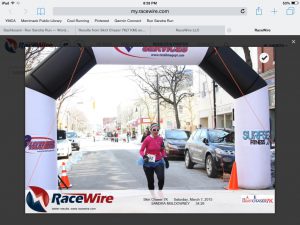 Finish time – 37:26 Average pace – 8:55
Overall  42/137
Females  –  24/92
Females 40-49  –  8/25