Hollis Fast 5K – Thursday, June 13th, 2013
This was my first solo race – meaning Brian and Brenna were not with me. It was Sarah's first race and she, too, was without her family there, but we did manage to get a picture of us taken by a stranger who parked next to us.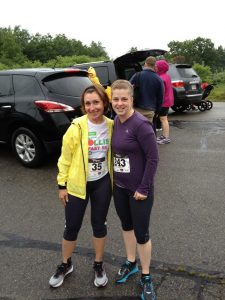 Sarah and I along with 1395 other runners prepared for a wet race. It was barely drizzling when we arrived and boarded the bus to Hollis-Brookline Middle School. At the school, we used the restrooms inside (because we were ladies – the men had to use the porta-potties)  and then headed outside to find our start. The men and women had different start points. We met up with some friends and time passed quickly. Just as the horn sounded for us to start, it started raining a little more steadily. I was glad I had found a super lightweight rain jacket to wear. I knew the course was flat and downhill and that many people achieve a PR because of these factors. I set off and felt great. The rain and cool temps were working in my favor. I followed a friend for about 1 mile, but then lost her. I never saw Sarah again until the end because I started ahead of her. I finished strong and knew that I had probably gotten my PR. I grabbed some water and headed back towards the end of the course to see if I could see Sarah. A few minutes passed before I saw her running toward the finish line. As she passed me, the announcer said her name (which was cool since it was her first 5K). She managed to run the whole race and was so excited. I was so happy that we were able to share that experience. Since it was just the two of us, we headed over to Alpine Grove for the post-race festivities and had some drinks and snacks, while waiting for the awards. This was definitely a fun race for me and will plan to do it again.
Here is a picture I found of me.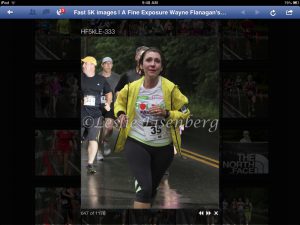 I was also really happy with my results!
903 SANDRA MULDOWNEY     42 F    35   27:57.0  9:01   28:05