36th Telegraph Santa Fund 5K/10K – Nashua, NH – October 28, 2012
The Santa Fund Run is a 5K and 10K race that helps start donations for The Santa Fund, which is in its 52nd year of helping those less fortunate in Greater Nashua during the holidays.
Here is a picture of my daughter, Brenna, and I just before racetime. She came prepared with snacks, drinks, and drawing materials [so she could make me a cheering sign]. I think she was planning to be there for a while. The tech shirt was nice, although a bit big for me. Lesson learned – get a size small. The elf hat was great, since it was a very chilly morning.  There were a lot of people wearing their shirts and hats and others had Santa and elf costumes.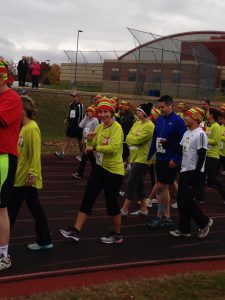 Here I am getting my stopwatch ready. I was worried about the timing chip and the mat. [what if my time did not get recorded?] I placed myself in the middle of the pack on the outside edge, not knowing how this was going to go. We started on the track at Nashua High South and ran 1/2 lap before leaving the school property and heading over to Mine Falls Park. I was winded almost immediately and could not catch my breath as we turned out onto the road. I told myself that I had to relax or this was not going to go well. As we entered the trail, it was dark and windy. I managed to catch my breath and settled into a steady pace. It here were roots and rocks, which I was not used to, since all but my runs but one, had been on the road. I was worried about tripping, especially after I saw someone injured on the trail side.  As the 10k folks continued on, I took a sharp right up a short hill back towards the school grounds. I was so happy to see people as I approached the final left turn, which led over to the entrance to the track. I ran just over 1/4 of the way around to the finish line, where I saw my daughter and husband and heard my name announced as I crossed the finish line.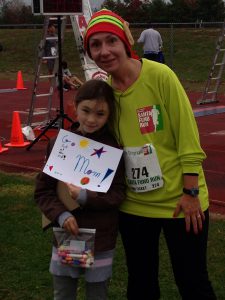 Here she is with my sign, which I didn't see as I approached the track. We did not stick around for the festivities and headed instead for a late breakfast. I couldn't wait to find out my official results.
 229/374  37/79 F4049 SANDRA MULDOWNEY 41 F 274 32:54.00 32:14.73 10:25
It is hard to explain the feeling of accomplishment that I felt in finishing the race, running the whole way, and feeling good in the end. I was excited and started looking for my next race almost immediately.