14th annual Westofrd Road Race – 5/3/13
We arrived at the Abbot School in Westford, MA quite early for the 10K which started at 2:25. I picked up my race packet in the gym, used the restroom, and headed outside. There was a nice playground behind the school, which Brenna enjoyed while I was running. We watched the Family Fun Run as well as the 5K races start and then it was time for my race. The weather was amazing – sunny and warm – and I had chosen the perfect outfit. I was very comfortable and had no issues with anything.
And I was off and running with 183 others [a pretty small group]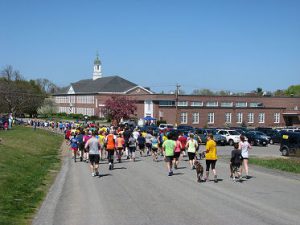 We started on a slight downhill towards the front entrance of the school and out onto the main road. I had no idea what I was in for, since I am not familiar with the terrain in Westford. One word describes it – hilly!!  On the way out, it was mostly downhill, which meant that the way back was mostly uphill. Some of the hills seemed like they went on forever, but I must have been ready for them because I found myself passing some folks on the uphills. There was quite a bit of fan support along the route with people setting up in the front lawns and drive ways to watch the runners. There were also 2 water stops, which I tried to take advantage of, but really couldn't run and drink from a cup at the same time.
I liked the fact that I could see the finish line on the home stretch which was approaching the town common circle. I had no idea the route started at the school and ended elsewhere. There were many folks in the common as I passed by and stepped on the timing mat.
I was so happy to have made it [without walking], but did end up with some bruised toenails – probably from the downhills as well as the compression socks and loose laces. Considering this was my longest race, I was tired, but okay when I finished [and definitely not as bad as the 3.5 mile race in Hawaii].
Here are my results:
139  18/24   10KF4049   SANDRA MULDOWNEY     Merrimack NH       42 F  1001 1:01:18.3  9:52 31:32.1 1:01:27.5