10/25/15
Pre-race night – we had an early dinner with Team Beef at the Hyatt Regency Washington on Capitol Hill. My dinner consisted of an iceberg wedge salad with bacon, blue cheese, cherry tomatoes, and buttermilk dressing along with chive mashed potatoes, beef sirloin with roasted mushroom Demi , and corn bread. After listening to Dorothy Beal I was lucky enough to chat with her.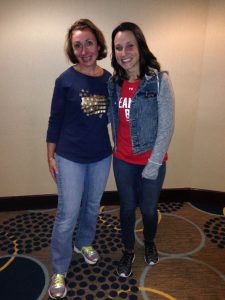 We headed back to our hotel shortly after 8 and I prepared Flat Sandra. I said good night at 9, and fell asleep easily.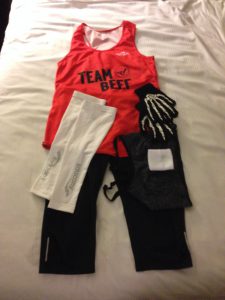 Race morning – My alarm went off at 3:55am, but I had been tossing and turning since 12:30 when I got up to use the bathroom. I had everything prepared ahead of time, so getting ready was easy. I got some coffee from the Executive Lounge at our hotel (Hilton Crystal City) and ate half a bagel with peanut butter and half a banana around 4:40am. Looking back, it was probably not the best idea to eat so far ahead of my race starting (7:55), and I also don't think I ate enough. Brian and I went to the lobby to meet two BAMRs (Lisa and Jaime) from the AMR Find Your Strong group.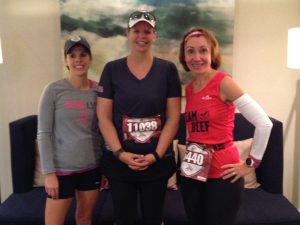 We chatted, used the bathrooms, and took some pictures before heading to the shuttle at the corner of Crystal Dr. and 23rd st. The shuttles were motor coaches and were very organized with one marine per bus. We got the last 3 seats at the back of one of the buses and took the short drive to Runners Village. It was not raining at that point, but it did start and I was grateful for my velour track jacket (which was my throwaway). We used the porta-potties often without having to wait in lines. We camped out under a small tent and chatted. As far as nerves go, I was unusually calm and was feeling ready to go on a "long run." Both Lisa and Jaime brought food, which was probably smart but I was not particularly hungry. I did not eat anything else before starting. Pre- race ceremonies started at 7:25 and we walked from the parking lot to the road where we saw thousands of runners lining up according to predicted finish times. Lisa, Jaime and I said good-bye and wished each other good luck before we each went our separate ways. I never the saw the 4:15 Cliff Pace group but lined up between 4:15-4:30. I parted with my jacket, but kept my gloves on.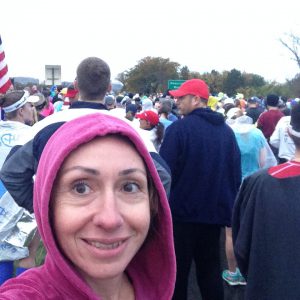 My race: the gun went off and we all started shuffling towards the start line. It took about 10 minutes for me to cross the timing mat. The start was slow and congested and this was the case for much of the race. I have never run a race of this magnitude and was surprised to have people always by my side. I had to go around people often, which caused me to use up energy and added lots of extra steps – a total of .55 miles – so technically, I ran more than a marathon (26.5)! I kept with my fueling plan of every 3 miles – from 3-18, but stopped after I had a hard time stomaching 4 sport beans at mile 18. After that I took only small sips of water and Gatorade from the aid stations. I used the aid stations to refill my water bottle 2-3 times, but this was a challenge because of the crowds at each stop and at times they were filling cups and other times pouring directly into water bottles. Given the number of runners, I think they should have had more stops with maybe fewer tables, which might eliminate the congestion and mess (which could potentially be tripping hazards). I did not partake in the first aid station which was oranges, but loved the smell. I did not like the fact that there were orange peels all over the road, which I could have slipped on. I was extra careful in this section. I did grab 2 citrus gels at the second aid station and was given 3 small packs of Sport Beans at the third aid station. I avoided the final aid station, which had DD munchkins!
I decided to go without music and take in the full experience of the scenery and spectators, but did have one earbud in. I used Motivo and listened to pre-recorded messages about the course as well as cheers from friends. At the half way mark, I decided to turn on my running playlist, but quickly discovered that Motivo would only interrupt the music but not play the message, so I just ran with Motivo and no music! This is very different for me because I typically listen to audiobooks on my long runs and music on all my short runs. I very rarely go 'naked.'
As far as pacing goes, I was very aware of needing to start out slow, but did not see this as being an issue with how crowded it was. My paces were pretty steady until mile 22. 
Where I really slowed down and never really recovered until the last couple of miles. I saw Brian and Brenna at mile 18 and my lower back was killing me at that point. We took a few pictures, exchanged hugs and kisses, and I was off again.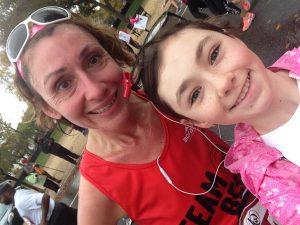 I started feeling queasy before the 14th street bridge and that lasted through Crystal City and beyond. In addition, my right knee was hurting me and I was not sure if I was going to really damage it if I ran so I decided to do more walking than "running." Mile 22 saw a 3 minute increase per mile and each mile thereafter was a huge struggle with my pace falling back even further until I reached mile 25. The last 1.75 miles saw an increase in my pace with my last .75 being faster than the previous 9 miles.
According to my Garmin, I stopped for a total of 4:10 to see Brian and Brenna as well as at each of the aid stations and to stretch/massage my knee. I never stopped to use the bathroom, although I saw many men relieving themselves on walls.
My favorite parts were entering Georgetown, running by the river, The National Mall area, and Crystal City. Crossing the finish line was a bit disappointing. I lost my arm warmer, which was tucked into my race belt, just a few feet before finishing and that distracted me because for a moment, I contemplated turning back and grabbing it (but that would have been a bad idea since there were so many runners all around me finishing). I was looking for Brian and Brenna but could not find them. I crossed the finish l
ine and just kept walking until I found the marines with our medals. Having the marine salute me and place the medal around my neck was an amazing experience.
Post race – After getting my medal, I went towards the food/water lines, but did not realize I would not be able to get back to the Iwo Jima memorial for my picture. I only realized that when I was being corraled. I met up with a fellow Team Beef runner and we walked through the finish area together, which was nice, since I had gotten a message that Brian's phone was dead and Brenna was letting me know that they were on their way to the family link up area [M]. I walked for what seemed like forever and was so grateful for the watermelon chunks in Rosslyn which tasted better than anything I could have dreamed of. Once I reached the family like up area, I waited for Brian and Brenna to arrive.  I was so happy when they finally reached me!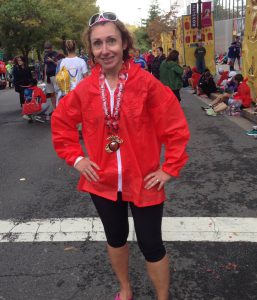 When I signed up the AMR Find your Strong marathon challenge, my goal for this marathon was to finish happy and healthy and I did that. Was I happy with my finishing time? NO, but there will be other races and it leaves room for improvement.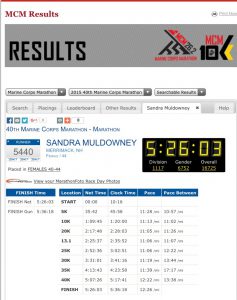 16738/23,212 overall finishers 28% ile
40-44 females – finished 1118/1760 36%ile
6771/10,439 overall females 35%ile