Date: Thursday, June 11th
Start Time: 6:30pm
This was my 3rd time running the Hollis Fast 5K. The 2 previous years, it was cloudy and drizzly, but this year, it was sunny and 82*.  I decided to run it with my bestie, Sarah. I was not racing because I had just completed the Newport 10 miler and I wanted to help her achieve a PR (which she did). My daughter and Sarah's two children also ran along with some friends. We all split up at the start with Sarah and I running together, the 3 older kids together, and the 2 younger kids with "the dad."  My husband and Sarah's husband went directly to the finish lie to wait for us.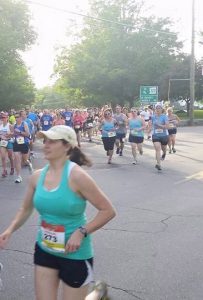 We decided to wear matching outfits [kind of] – again another part of the tradition, which started last year with the black/pink tutus. I didn't see photographers along the course or else I would have smiled for the camera.  We ran until almost 2.5 miles and then walked for a bit until we stopped to walk again around mile 3.  
We finished strong and ran across the finish line together, although Sarah did beat me. She saw the photographer and ran towards him, while I was running on her right side and got blocked by other runners.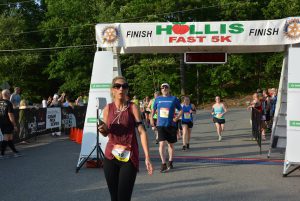 Once we finished, we waited for the rest of the crew. Here is my daughter crossing the finish line.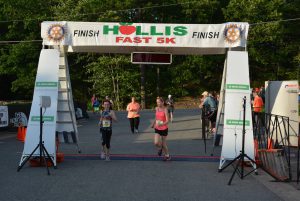 Here we are outside Alpine Grove where they had the after party – cookies, fruit, and yogurt. We headed to Bertucci's for dinner [another tradition].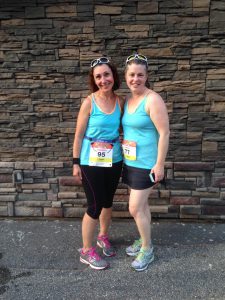 I hope we can continue to run this race together. It is always a good time.
1019  59/118  F4044   SANDRA MULDOWNEY     44 F    95   30:13.3  9:45 30:50.49       10:23