The Ribfest 5 miler was held on June 15, Father's Day once again this year, but this year we could not enjoy the festivities of the Ribfest because we had Red Sox tickets. We took the shuttle from Harris Pond and arrived at the Bud plant without difficulty. I had picked up the race packet the night before so I could just relax, which I needed since all I kept thinking about was the fact that I felt so sick after last year's race.
I loved the shirt, but not the bib motif.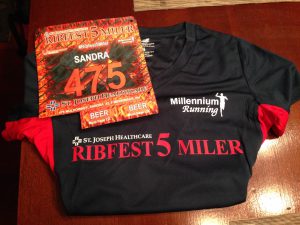 I usually try to get a post-race shot near the start line.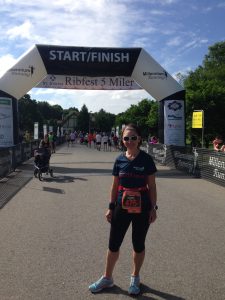 The masses on DW Highway waved to the camera man.
 This year, I sprinted toward the finish line.
One thing I love about Millennium Running races are the free photos from Geneia. I have been lucky to have received some great action shots – thanks to them.  I was definitely happy with my finish – 45:17. I beat my time from last year by 2:43.