Just 2.5 years ago, I had no idea about race entry fees, lotteries, capped fields, qualifying times, race distances, etc. and now I am entering the Marine Corps Marathon race lottery. Watching the NYC marathon last Fall really peaked my interest in running a marathon.   After a few months of reading about different races, I decided to try and get into the Marine Corps Marathon.  On March 13, I registered for the lottery on the MCM website. Registration for the lottery does not guarantee an entry in the MCM, but gives you an opportunity to get chosen to race.  On March 25, runners selected to fill the field were notified by email.  
On March 24, I made lodging reservations in the DC area, just in case I got into the race. My thinking was that rooms would go quickly once people were notified that they got in. I had the option to cancel my reservation.
On the morning of March 25, I checked my email as I normally do and saw that I had an email from MCM. For a few seconds, I deliberated whether I should wait for Brian to come home from his swim class before reading it or just open it. I decided to go ahead and open the email and this is what I found!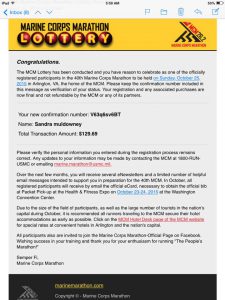 The first thing out of my mouth was "Oh my god." I stared in disbelief at "Congratulations."  I was going to run a marathon and not just any marathon, but "the people's marathon."  I was super excited and scared at the same time.  I can't wait for this adventure to begin!