Dragon 3.5 mile Dash  – April 21, 2013 – 8:00am – Kailua-Kona, HI
As soon as we booked our Hawaii trip, I started looking for races on the Big Island. I was lucky enough to find one on our last day there, so I decided to do it. I emailed the race organizers as well as the local running store to get information, but quickly realized that this was a very laid back race, with no registration or fee required.
The 8:00am start was clearly on Hawaiian time, which meant that nothing was really going to start happening for at least 30 minutes. Here I am with mostly locals waiting.
Here is a Peaman giving us instructions. It was hard to hear him, so I just followed everyone else. The most important part was the finish. I had to grab a popsicle stick [you read that right] with a number written on it and then take it to a woman under the canopy. She would ask for the stick as well as my name and age.  This was their timing method, which I was not really sure how it was going to work.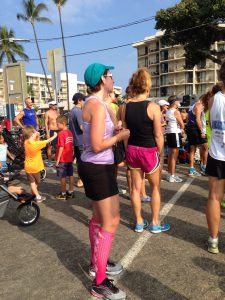 The small group of runners advanced toward the start [no clear starting point] on the street near the pier. The sun was blazing and I was already hot, just standing there.
I tried as best I could to enjoy the scenery, but I was so hot. Although I was "dying" I did not want to stop to grab water at the 1/2 way point. I couldn't wait to be done. This picture is of me approaching the sea wall near the pier where Brian and Brenna were waiting.
As you can see, the finish line was merely a banner and the woman under the umbrella off to the left side of the picture was the "timer."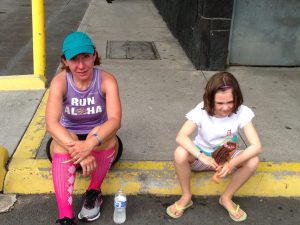 After quickly finishing off 1 bottle of water, Brian went off to the ABC store to get another. I also had my first energy gel packet after the race. It was definitely my hardest race to date. The climate – sunny, humid, 80s and the terrain – constant climb 1 way left me wiped out.
My time was 35:29 with a pace of 10.08 – definitely not a PR race, but still happy to say that I ran a race in Hawaii!