Sticking to 1 race per month, race #3 for 2016 was on Sunday, March 20th, 2016 at 11:00AM.
This was my first time running this race and I chose it for various reasons: price $55, location –  near my parent's home, and timing – it fit in my training plan.
we stayed overnight in Somerset and then drove to New Bedford on the morning of the race. We parked in a parking garage a few blocks away from the start free of charge. We made our way to the start but Brian had to return to the car to put away his camera bag, since bags were not allowed. Brenna headed to bib pick up in the YMCA. I got my bib and shirt (a long sleeve navy tech shirt)   and used the real bathrooms and then headed out to reunite with Brian and head to the start line.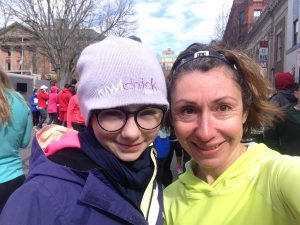 It was 37 and cloudy at the start and I had chosen to wear my new Athleta outfit along with my Saucony running mittens, which I was glad for.  I tried running with my hood, but the wind did not make that easy. I found that I went out a bit fast and then settled into a good pace. During the second half, I found myself running at a very comfortable pace – around 9:35, and tried to speed up. As I ran my last mile, I knew that a PR was possible. As I took the turn towards the finish line I saw Brian and Brenna and cheered. They then got me running towards the finish with my mittens in hand.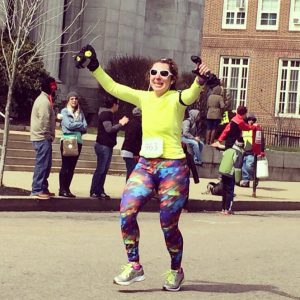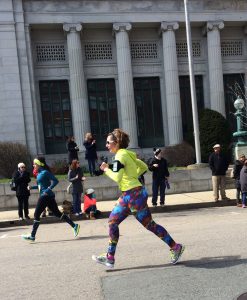 My first half was faster than my second, but the latter half was also winter and more uphill.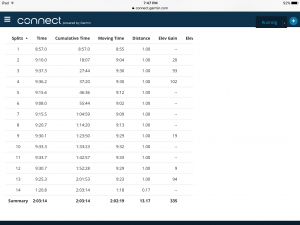 I was so excited to get a PR by almost 3 minutes!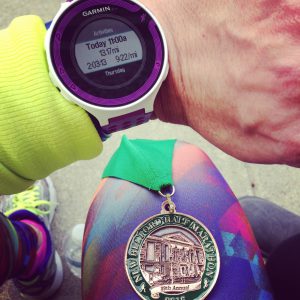 1523   135/292   F4049   SANDRA MULDOWNEY   44 F   963   2:03:12   9:25