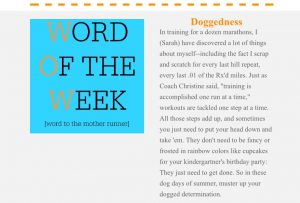 Monday – 88* – After having no issues with my ankle at work today, I decided to go for 3 miles. Again, my lower legs/shins were sore/tight but loosed up after the first mile. It was a slow one with an average pace of 11:50.
Tuesday – 84* – After dropping off the truck for repair, I opted to run 6 miles local and forgo the drive to the rail trail. I had the same issue with my legs, and again was slow [11:23] but not as slow as on Monday.
Wednesday – rest – Today was the first day of school for my students and a busy day for me, so I decided to rest. I also had an unexplained bruised left big toe, which I iced – so weird.
Thursday – 88* – I skirted the T-storms and completed my 7 mile temp interval run without getting wet. The first set were 10:08/9:51 and the second were 10:39/10:07. These were even slower than my previous attempts at getting to my tempo pace of 9:11 [based on the calculations from my June 10mile race].
Friday – I opted to do a quick [22 minute] yoga video today. Going back to week 3, I found the video – Sage Rountree: Yoga For Runners at http://www.prana.com/life/2013/08/04/sage-rountree-yoga-for-runners/.
Saturday – 55* – long run on the NRRT- This was probably one of my best runs. I was able to run the second half faster than the first. I fueled at 30 and 60 minutes and did not drink much. The weather was amazing! I ran into my husband while he was out for his 4 hour bike ride. My average pace was 10:41 for the 10 miles.
Sunday – rest – We played 9 [actually 10] holes of golf as a family at Brookstone Golf Course.
Total mileage: 26 [cutback week]