May 17, 2015
The day was finally here. This was my goal race for 2015 and one I had trained diligently for using a plan created for me by my running coach, Angela [Happy Fit Mama]. My goal was a lofty one: 2:00 [which would be a 10 minute PR]. Everything would have to be just perfect for this to happen and I would have to really push myself.  The week leading up to the race was quite busy at work. My last long run on Mother's Day was awful – 90* and lots of chaffing. My 5 mile tempo on Wednesday was equally hard, although I was indoors and chose different bottoms to run in and I could only do one mile at close [9:13] to my goal half-marathon pace [9:10]. I woke up on Thursday with a bad sore throat which continued through race day as well as sneezing, runny nose, and generally tired. I hydrated and slept pretty well on the days/nights leading up to the race.
On race morning, I woke up at 4:45, took a quick shower and got dressed.  I made peanut butter toast for breakfast to have while on the road and left home at 5:30 with a very tired little girl and a patient and support husband. After a quick stop at DDs, we drove straight to the coast and arrived in Rye about 1 hour later. There was plenty of parking in the Wallis Sands parking lot and bib and shirt pickup were easy.  It was very foggy, humid, and chilly 52* and visibility was quite low.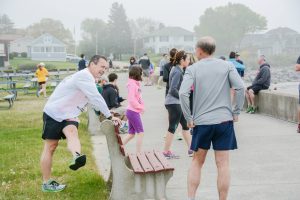 We waited in the car for a while and I made quite a few pit stops. At 7:45, we prepared for the race to start. There were 6 waves and I started in Wave 3 at 8:10. I liked the wave starts 5 minutes apart.  The horn went off and so did I feeling pretty good, dressed comfortably, and aware of my goal.
I carried my hand held water bottle, but had issues opening it, which caused me to slow down to attempt to grab a cup of water at the first aid station. A quick note on the aid stations: this race had some of the best aid stations of any race I have done. They had enthusiastic volunteers, some of which dressed in costumes, who cheered, and had fun signs.  It was great having my name printed on my bib, so complete strangers could encourage me to keep going.  The sun popped out at mile 5.5, but luckily we had turned inland where the country roads were lined with trees because I had no sunglasses or sunscreen.  I had 3 sport beans at mile 4.5 and then two more times about 2 miles apart and I took small sips of water at approximately each mile. I started feeling nauseous at about mile 8 and had some nagging pulling sensation on my right hamstring [which I have had before].
I liked running on the path by Odiorne Point State Park and then coming back out onto 1A South.  I got my final push of energy when I saw the ocean and was focused on how much I like the beach and could not wait to put my feet in the 49* ocean water.  Mentally and physically I felt better towards the end of my race and my last two miles were faster than my previous eight miles, which included four miles at 10:00+ pace/mile.  The finish was slight downhill and I remember sprinting as I high fived a guy wearing a Six03 shirt before I made the sharp left turn onto the grass and into the final chute. This was tricky as the turn required shifting from pavement, to gravel, to grass beside the restrooms at Wallis Sands Beach.  I was given a choice of water or Gatorade as I crossed the finish line as well as was handed a beautiful medal.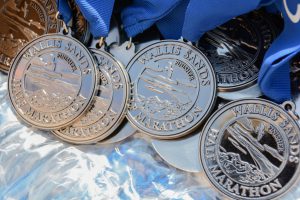 There were multiple photographers on the course and I tried smiling and fixing my belt each time I saw one of them. Here are a few of their photos.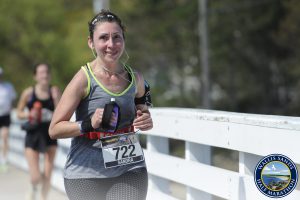 Here are my stats:
2:06:17.1 – average pace – 9:39/mile  –  overall place 451/807 – division place 65/109