TD BEACH TO BEACON 10K ROAD RACE – Cape Elizabeth, Maine  – August 1st, 2015
The excitement about this race really started on the day registration opened -March 13, 2015. I remember having the webpage open and ready for registration.  I was so nervous since I knew that it was extremely challenging to get in and there was no room for clumsy fingers when entering in personal information into the many fields. My heart was racing and I was wondering how Sarah, my bestie, was fairing at her house – doing the same thing.  The good news is – we both got in through the regular registration. This year, 4,000 runners registered in a record-setting time – 4:15. The 1,950 remaining bibs were made available through the lottery.
Sarah and I went to the 2015 Expo and packet pick-up at Cape Elizabeth High School on Friday after we checked into our hotel in South Portland. It was bigger than most I've been to and had some nice samples. Bib pick-up was easy in one gym and then we moved into a different gym which had many vendors. This is where we got our tech t-shirts as well as a surprise [$10 gift card to Olympia Sports]! We left the Expo and headed back to the hotel to pickup our families and head to the kid's race at Fort Williams.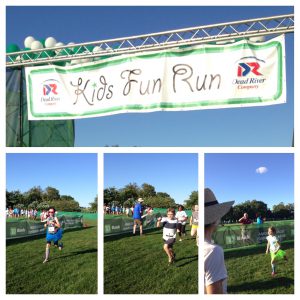 dinner since we everyone was hungry and we wanted it to be an early night. We enjoyed dinner at Sebago Brewing Company near our hotel [Courtyard Portland Airport] and then hung out in Sarah's room for a bit while the kids watched the premiere of The Descendants!
On Saturday morning, we met at 5:45 and headed out to find coffee before going to one of the parking lots with shuttles. We decided that the Hannaford Corporate building was close and easy to get to and were on the second bus.  Soon after boarding the bus and leaving, I realized I had forgotten my sunglasses in the car. The ride to the start line was about 30-40 minutes. I can't remember exactly. Once we arrived, there were table with sunscreen, bug spray, free chapstick, water, gatorade, and DDs coffee. It was a great setup on a closed street and there were 1000s of people milling around. The porta-potties were organized like I have never seen before with 4 facing the street and the next 4 facing a grassy area and so forth. There were short lines on both sides, which was awesome.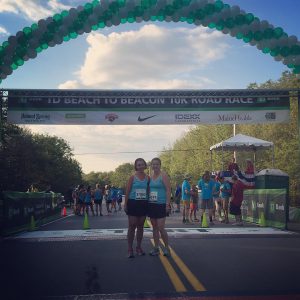 We did a 10 minute run/walk warm up on an intersecting road which felt good, although I was already very warm. It was 70* and sunny at the start and the race announcer kept reminding us to hydrate.  It took about 8 minutes after the horn sounded for us to cross the start line.  My plan was to walk through each aid station in order to stay hydrated, which worked great for me. I smiled the whole way and loved when spectators cheered for us, called our names, or commented on our matching outfits. One of my favorite sights was the American flag hanging from two fire truck ladders across main street.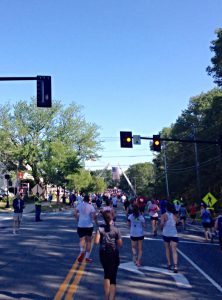 The spectators at this race were by far the best I have ever seen! They lined most of streets except for the first 1/2-3/4 mile. They came out with pots/pans and wooden spoons, signs, bells, and there was even a guy playing his guitar and signing in her front lawn. One house was cooking bacon in the front yard. I'm not sure how that was supposed to motivate people to continue running. I smiled the whole way – as you can see by this photo taken by the course photographers. [There were many others like this one.]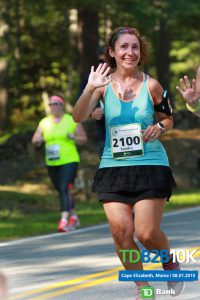 Some of my favorites were taken at the finish line.
This is a race worth doing if you can get in! I am so grateful that I was able to share this experience with my best friend.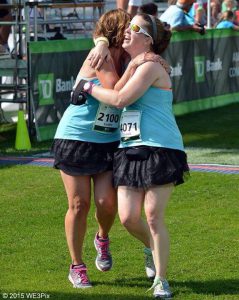 6009 425/479  F4044 1:17:34 12:29 1:24:23  Sandra Muldowney          44 F   2100 Merrimack NH