| | |
| --- | --- |
| Date: | Sunday, January 17, 2016 |
| Time: | 9:15 am    *NEW START TIME* |
| Location: | Copper Door Restaurant • Bedford, NH  |
| Distance: | 3 miles |
Sarah and I drove together and left home shortly after 8am. The traffic in Bedford was very heavy and it took a while for us to get past the light on 101 and be able to get into the parking area. There was a very detailed parking map given to us ahead of time which also included the shuttle bus stops on it. We parked easily and got on the first bus we saw, which literally took us out of the industrial park area and across 101, up the hill and to the Copper Door parking lot where the start line was located. As we were getting ready to head to the start line we saw many people taking the bus in the reverse direction and I wondered how they would make it back up to the start line in time. By the time we dropped off a bag at bag check, we had about 20 minutes to wait. We headed for the port-o-potties, which there weren't many and waited in line. It was 34* and cloudy at race start and I felt like I was dressed perfectly for me. My hands did get cold and never really warmed up once I put my Saucony gloves on. Once we were done, they were making an announcement for everyone to head into the corral area. It was so crowded and I got stuck at the front of the 10:00-12:00 pace area. The race was sold out at 2,000 runners. The start was packed and it was very hard to run. I found that I was passing people for much of the race [except on the downhills]. The first 1/2 mile was tough due to crowding, which made it slow. There was a decent hill just past the 2 mile mark where i slowed down to 10:25 and was still passing people, but on the downhill, I did not make up much time because I was tentative. I was worried about ice and slipping and falling and so I held back and felt like my gait was off. Overall, I felt good, although my left was bothering me in the morning while getting ready. It wasn't the most scenic course and I thought it was too tight for the number of runners. They called my name as I came across the finish line, which was cool. I grabbed a Gatorade and went to wait/watch for Sarah. I met a friend from my running club at the Y and we chatted. Unfortunately, I missed Sarah cross the finish line, but here we are on the other side shortly after she finished.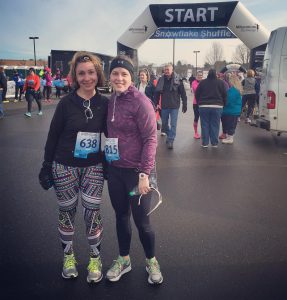 We did not stick around for the post-race refreshments because we were sweaty and cold. There seemed to be plenty of food and drink, but the area was quite crowded. Muscle Milk and Stonyfield were also there.  Here is the only official race picture of me running towards the finish line.
 
Here are my results!