Date: Sunday, January 15, 2017
Time: 9:15 am 
Location: Copper Door Restaurant • Bedford, NH 
Distance: 3 miles
Alarm was set for 6:30 and our plan was to leave by 7:35. I made some old fashioned oats with banana and peanut butter and had a cup of coffee before we left. This was a first for us, since Brian and I don't run races together just the two of us. It is either one or other other of us or the whole family. We arrived in Bedford and parked by 8 and hopped on a shuttle bus to cross 101 and get to The Copper Door. Traffic was light and we got right on a bus, which dropped us off at the start area. It was 25 and sunny at the start. We got our bibs and sweatshirts and then went to the porta-potties. Unlike last year, the lines were short, although the number of porta-potties was less than 20. We walked around to try and stay warm and checked out the booths (maple water, muscle milk, apple therapy, immediate care, Stonyfield farm yogurt, and an insurance company).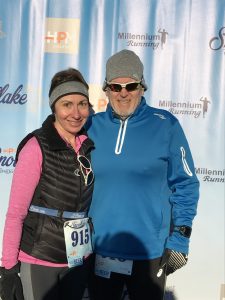 We dropped off our bag around 8:45 and went for a warm up run together. Lots of runners were still coming in on the buses when we returned to the start area and got ready to get into our corrals. We said our good-byes and each went to our own pace area. I started at the 9:00-10:00 min corral. I was ready – Bluetooth headphones ✔Garmin ✔playlist ✔and we were off. I passed quite a few people in the first ¼ mile even as we ascended our first hill. At about 1 mile, I came upon a person who had collapsed and there were a number of runners assisting. For a moment, I thought about Brian and whether I should stop to check and see who it was, but I did not.
I had decided to try and race this race and come close to last year's time (28:09.4), which seemed challenging since I have been heart rate training and my average pace is close to 14:00 on most runs. I ran hard and really wanted to stop and walk on the hill at 2 miles but did not and pushed up the hill past many people walking. I saw Luis (a friend from running group) and just behind him was Brian.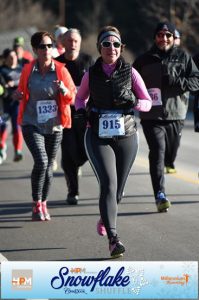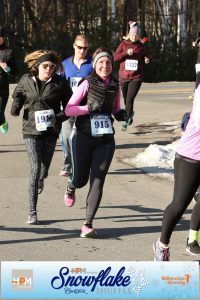 In the end, I was pretty happy with my results and glad to see that I still has some speed. My average heart rate was 197! My average moving paces were fairly consistent – 9:14, 9:25, 9:22.