June 25, 2017 – Smuttynose Brewery in Hampton, NH 
I arrived just after 8 and was lucky enough to be able to park in the business parking lot across from the Smuttynose Brewery. There were many people already on the property, but bib/shirt pickup was quick and there were no lines at The porta potties. It was 75* and sunny at the start, which is too hot for me! The lot around the brewery filled up as race time approached. A total of 1660 people finished the race.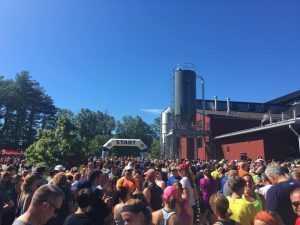 I met up with Jen B., Kris, and Julie from LHS, but did not see Jen S. until the end. The course was nothing to write home about and in fact I don't remember much of it, except that I was hot!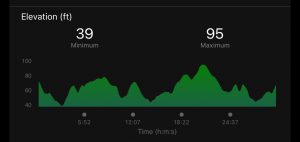 I ran by feel and it felt hard. 3.1 miles felt long and the last turn up the hill to the brewery was tough, but I pushed hard up that hill. Unfortunately, theprofessional photographer nor my friends got any pictures of me. ☹️ The post race party was fun with draft Smuttynose beer available. There was also pizza and yogurt samples. The line for the real food was insane.
As far as my results go, they are nothing impressive, but I was there for the experience and not to PR. This race is definitely more about the social aspect post race than about the course. I don't know if I would do it again.