March 10, 2013 – Ras na hEireann U.S.A. – Somerville, MA
This picture makes it look like I'm all alone, but I was not.  This was by far the biggest race yet for me with over 3,000 people registered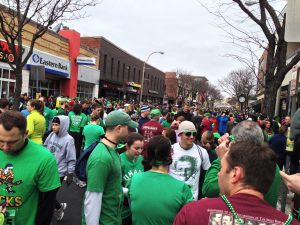 We saw lots of interesting folks, many of which sporting very festive outfits.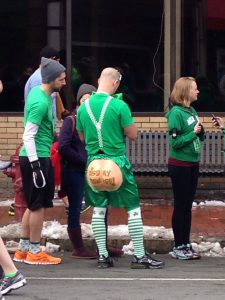 I learned an important lesson during this race. Do not change your race day outfit last minute! I was barely past the start line and I already had my pants falling down and my shirt lifting up. Thank goodness I was wearing a skirt to cover me up. I had done a practice run with my race clothes and then went shopping and bought a pair of new pants, which then did not match the top I had planned to wear. Long story short – my whole outfit was new except for my homemade skirt. New is not always good!
I placed myself in the 10-minute pace group, but soon realized I should have been in a faster group because I found myself having to go around and pass people who were slower than me. With so many people running together, it was easy to get tripped up, so I was constantly avoiding people and running on sidewalks to get away from the crowd.
I found the course to be mostly flat, except for 1 hill towards the end. I enjoyed running down the street and seeing the finish line up ahead. I missed Brian and Brenna at the finish line since we were on opposite sides of the street. My calves seized up as soon as I stopped, so I did some stretching while rehydrating.
My results were 30.28 with a pace of 9:49. I came in 103 of 320 in my age division. This was a new PR for me!!!