October 26, 2014
We headed straight for the Newport Visitor's Center on Saturday  for packet pickup. This was easy and I like the long sleeve blended shirt I got. Afterwards we headed to my parent's house for dinner and to spend the night. On Sunday, we woke up at 4:10 and left Somerset at 4:45. We Arrived in Newport at 5:30 and quickly found parking at the Citizen's Bank lot just off America's Cup Ave. After using the porta-potties at the visitor center, we loaded on the bus at 5:51. It was pitch black, 56  degrees and cloudy. After a short ride over the bridge, we arrived near the toll booth in Jamestown.  
We waited in the dark on an access road with thousands of people. Going into the porta-potties in the dark was fun – NOT! We noticed the pace marker signs up and said our goodbyes, since hubby was going to walk the course and take pics, while I hoped to run it at about a 9 minute pace. I think there were lots of people walking because there was plenty of room in my pace group area until we moved down the road and onto the street where the race was going to begin. At that point everyone got all bunched up including runners and walkers. The start was not my favorite. We were very crowded and had to watch out for those walking. Daylight was a welcome as we went through the toll booth and onto the bridge.
The run uphill over the bridge was a challenge but so worth it, since the sights were beautiful. I made a point to look out to both sides of the bridge.
This was definitely an "experience race" and I was not going for a PR, so why not stop and take a selfie on the bridge. I don't know why I look surprised or scared!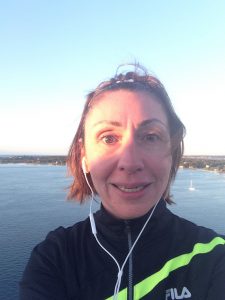 I felt good going over the bridge and coming into town where there were a few spectators, but not many. The finish line had a few more people as well as a very perky race announcer, which was fun.  Here I am waiting for Brian to finish.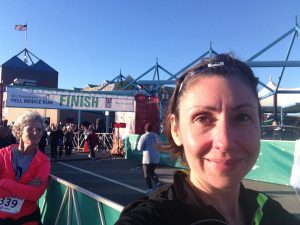 I was pretty pleased with my finish.
Merrimack, NH
Bib #: 1087 | 43F
Time: 37:00
Pace: 9:29/M
Division: Pell Bridge Run
Overall Place: 687/3034 | 22.6%
Age Group Place: 40/255 | 15.7%