4/26/15 – 9:00am
I had a good night's sleep and woke up at 5:30 feeling good.  It is rare that I don't feel nervous before a race, but I was not very nervous today. I got ready, made some oatmeal and left home at 6:40.  I ate on my way, but did not finish it. I set off with Google maps and arrived at Cranes Beach at 7:50.  I found a friend on her way and followed her for a few miles to the parking lot. Upon arrival, I had to pay the $5 parking fee to the parking ranger and was allowed to park in the large beach lot.  It was a cloudy chilly 41 at the beach, but I planned my outfit perfectly and was very comfortable.  After much deliberation, I decided on a short sleeved tech shirt and my Saucony arm sleeves. After getting my race shirt, I decided to change into it because I loved it and how it fit. There was a tent with bibs and shirts which was pretty empty and very organized and maybe 10 port-a-potties.  The start and finish in the parking lot were one in the same and very clear. I met up with four coworkers just before the start.  There were no pace markers or corrals, so we were asked to seed ourselves appropriately.  Four of us started together, but I ran my own race.  The main hillI packed 1/2 cup of raisins into a snack bag, which I divided in half and sewed. I fueled at miles 3 and 6, but did not eat either portion in its entirety.  My handheld water bottle was filled with cold coconut green tea and honey. I sipped this and did not stop at the water stops. 
The course was really pretty. We left the parking lot and ran out and into the entrance of the The Great House on the Crane Estate. The first 1.5 we ran around historic Castle Hill, which included about a 1/2 mile hill. The rest of the course was rolling hills through some nice quaint country, with only a short piece of the main road. I felt pretty good the whole way and did not walk any of the course, although I was watching a main who had a run/walk method for hills. [In the end he finished 3 minutes behind me, not that I was watching or anything.]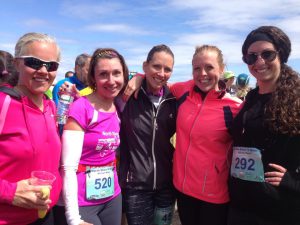 This is definitely a race that I would consider doing again. It was only $40, had Smuttynose beer [which I did not partake in, but others did], Stoneyfield farm yogurt, nutrition bars, water, and pizza.
343  52/140  F4049      SANDRA MULDOWNEY     Merrimack NH     44 F   520   1:34:04.6   9:25