First off, why run a half-marathon 3 weeks before my goal race [MCM]? It was cheap [$48.70 total]. I had to run 10-14 miles according to my training plan. I like getting tech shirts and race medals.  The big question was: Do I run or race it?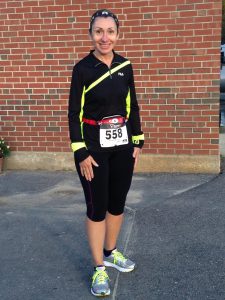 On race morning (Saturday, October 3, 2015), my alarm went off at 5am and I found it easy to get up.  I had all my things laid out and ready.  I was not sure how cold it would be so I put on a light long sleeve shirt, but took a short sleeve and arm sleeves just in case. I decided to try a different breakfast (bagel with PB) since I needed to practice for MCM, since I cannot make my typical (oatmeal with chocolate, almond butter, seeds) at the hotel. We left home at 6am and I ate at 6:30. We arrived at the middle school around 7:15. Packet pickup was at 7:30, but we were able to go right in and get mine in the NMMS Cafeteria.
The Half Marathon started out past Sculptured Rocks in Hebron.  I got on a school bus at 7:45 which shuttled runners out to the start.  I sat with a high school soccer coach who graduated from college in 2014 and lived in Dover, NH. It was her first half marathon and we chatted much of the way. They offered a baggage check to half marathoners, which was nice, since I wanted to keep my hat and gloves with me.  We left our belongings in our LABELED runner's bag on the bus that dropped us off at the start. All bags were brought back to where we checked in and were available for us to pick up in the Middle School Cafeteria.  Near the start, there were 8 porta-potties and a small table with some food. I quickly went to the bathroom since there were no lines. [I think we were the first bus.] Then, I went to stand by the side of the road in the sun. I talked with the girl from the bus as well as an older man from PA whose goal was to do 13-14 half-marathons this year.
Our bibs had a timing chip which tracked all runners finish time as we crossed the finish line mat, but the start time was off of the gun as they did not have start mats down. At 9:00am, the gun went off and I started in the middle of the pack. At the start, I was still not sure whether I would be running or racing, but at the 1 mile marker, I realized I was racing when I saw my pace was 9:05. There were water stops every few miles but these did not coincide with my nutrition plan which was every 3 miles, I would take a gel. I took 3 of my 4 gels and stopped at 3 of the 4 water stops. I ran the entire way except for slowing down to get cups at the aid stations. I really liked the point-to-point course and the beautiful views of the lake and countryside. I did not stop to take any pictures, but others did.
I felt strong and did not feel as though I was pushing myself. The hills were there, but mostly in the first half, although there was one last one with about 2 miles remaining. I tried to push up the hills at a consistent pace and crest the top before settling into my typical pace. This seemed to work for me because I often passed folks on the hills.
In the end, I pushed it across the finish line, with the thought that I definitely had PRd, but what I did not realize was that my previous best was 2:06:17 – not 2:07:??.  I achieved the same pace as Wallis Sands [9:39].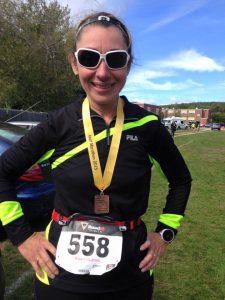 109  12/33   F4049 2:06:20  9:39 Sandra Muldowney        44 F   558 Merrimack NH