Smuttynose Rockfest Half Marathon
Hampton Beach, NH, October 5, 2014
I woke up at 4:30 after a very restless night. Our plan was to leave at 5:30 given all the warnings to arrive at least 90 minutes in advance.When we arrived at the central town parking, it was quiet. I guess I expected to see a lot of traffic. We stayed in the car for a bit and then took a walk to see the start/finish line as well as go to the real bathrooms by the water. The ocean views were gorgeous.
At 7:20, we set out again so I could make one last potty stop, which proved to be impossible given the long lines at the real bathrooms as well as the porta potties. [suggestion: more porta potties please] We then headed toward the start which was super congested and I placed myself in wave 2 [under 9 min.]. The start went off without a problem,but it was slow given the fact that there were thousands of people all crammed into 1 lane of a 2-lane road. The new course was more spectator friendly allowing spectators to stay at the beach and see me run at the start, mile 2, mile 4 and the finish. I got to see Brian and Brenna at each spot, except the start where it was so congested that we did not see each other. Besides needing to pee, the first few miles which were in a loop were fine and had lots of crowd support.
It was a chilly windy morning (50* but real feel 46*), so I decided to wear the tech race t-shirt under a light long sleeve tech shirt. This was a decision I regretted after the first few miles and gladly accepted a friend's (Thanks Jen!) help when she caught up to me and held my arm band as well as Garmin, while I slipped off the top layer and tied it around my waist. After chatting for a few minutes along 1A, she set off ahead of me. The area behind my right knee was tight and painful for most of the run, but definitely got worse at the mid point. That is also where my pace dropped off because I took walk breaks for water as well as just to rest when there was no water stop.
As far as nutrition goes, I had almost a whole peanut butter wheat bread sandwich before 6am and then nothing else until I had my Hammer gel at mile 6 which was around 9am. I stopped for water when there was an opportunity. When I crossed the finish line, I felt so nauseous, unsteady and was having trouble breathing. I need to take a look at my nutrition and hydration plan!
My time was good enough for a PR [shaved off 3:30], but I was disappointed because I knew that I could have done better. Here I am approaching the finish line.
A total of 3885 people finished the race including multiple friends from LHS.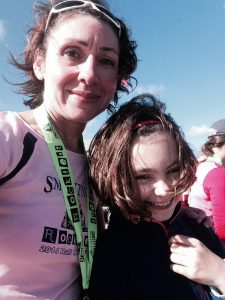 2317  207/403 F4044 SANDRA MULDOWNEY Merrimack NH 43 F 3021 2:10:03.5 9:56