This was my 2nd marathon completed and although I did not run it faster than my first – MCM last fall, it was better than it, in so many ways!
My A goal was a PR (<5:26). My B goal was a negative split – second half faster than first half (Steava back half challenge was an extra motivator). My C goal was to beat the course time limit which was 6:00.  I am proud to say that I met my B goal with 3:00 vs. 2:48!
I woke up at 5:35, got ready, and went down to the lobby to go to Starbucks which opened at 6. There was a line, but it moved along and I was able to get some oatmeal with dried berries and nuts. I had breakfast in the room and was feeling pretty good, having slept about 7.5 hours. We left our room around 6:45 and headed to the start area which was in Bushnell Park, which was about .5 miles from the Downtown Hartford Marriott, where we were staying. I made a porta potty stop on our way to the start line before meeting up with a group of BAMRs. I met 3 of 5 women from our heart rate training group at the cannon in front of the Capitol building at 7:15.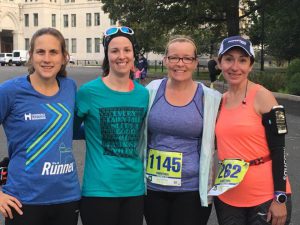 We then split up, but Meaghan and I headed to the porta-potties one last time before heading to the start line.  I listened to the national anthem and a blessing and waited for the start with Meaghan and Melissa.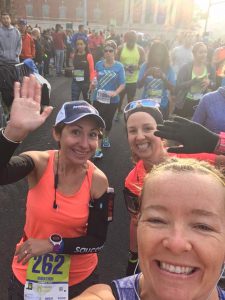 The gun went off and we moved along with the crowd slowly. My heart rate was already high and I knew that it was because of the excitement of the race.  I quickly realized that I would not be able to stick with my race plan (see below).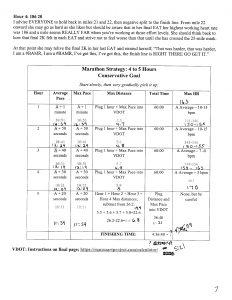 All three of us, we're higher than we wanted to be, and we shuffled along at a below-target pace. Although I was not able to keep my heart rate within the parameters of the plan without getting swept, I did keep to the premise of start slow and gradually increase. The course limit was 6:00 which meant a pace of 13:44/mile.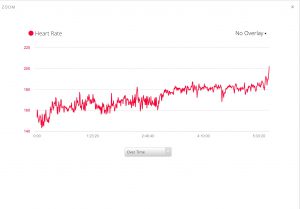 My average heart rates were as follows:
hour 1 – 159
hour 2 – 165
hour 3 – 169
hour 4 – 178
hour 5 – 181
hour 5+ – 183
We told ourselves to "let them all go" and watched everyone run passed us. This was a challenge because we all had energy and could go faster, but we committed to the plan.  the three of us were last for MILES!  We stuck together, and the cops followed us…closely!!!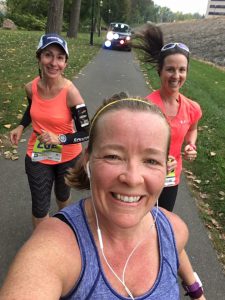 We were lucky to find Melissa's family at different points as well as Brian and Brenna during the first half. This gave us many photo ops.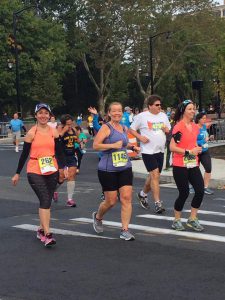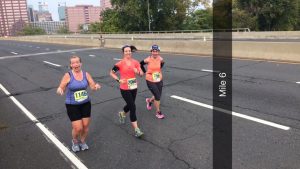 We had a motorcycle, a car with ALL its flashers, and a couple of  bicycles with us. We carried on with our modified "don't-get-swept"plan for several miles, running 13-14mm with HR too high. Eventually, the police pulled up next to us and told us that he was leaving us to follow other runners since we were no longer last-thank goodness!
I would NEVER have succeeded as well as I did today without these ladies. It was not just hard to be the caboose for miles…it was stressful with them tailing us so closely.
The three of us made it to 13.1 together and then started slipping apart as we tackled the next section. I decided to continue with my plan to increase my heart rate as well as my pace and did so with little difficult. I was on my own for the rest of the race, and made it a point to acknowledge every person that I passed. On the out and back, I enjoyed seeing Melissa and then Meaghan.  
I passed a total of 88 people (I may have missed a few because it was hard to remember in the later miles). I ran almost the entire second half and walked through water stops. My fueling plan worked great and I had NO nausea, which is a win for me. I took 1/2 waffle at hour 1 and the other 1/2 at hour 2. At hour 3, I took in 2 balls. At hour 4 and 5, I took in 1 ball each hour.  I stopped at most water stops, and only drank water.  The weather was mostly cloudy and 48 at the start, but warmed up to the high 60s.
My husband and daughter were waiting at the finish line where I came in with the 5:45 pacer.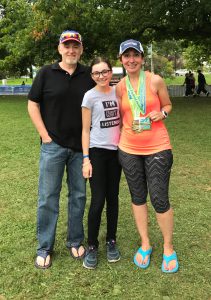 Post race, I walked .5 mile to our hotel and then another .5 mile later in the afternoon to go get a Coke at Burger King. For dinner, we  headed out again on foot for another .5 mile to go to dinner. I felt great!!! #coachedandloved #winningatlife