November 1, 2015
Start time: 8:00 AM
Location: Seekonk High School – Seekonk, MA
Today, I ran for the first time post MCM and was the 8th female to finish. I placed 18th out of 46 runners with a time of 27:51.44 [gun time] for the Black Goose 5K. You might be asking why I ran a race 1 week post marathon. The answer is – I was going to support my younger brother on his first 5K, but he did not train or register, so I ran it anyway. It was the day after Halloween, so we travelled to my parent's house and stayed overnight, which made race morning easy with a short 20 minute drive. Brian registered for the half marathon, so off we went around 6:15.  Parking was filling up when we arrived but luckily we got a good spot behind the school. We picked up our bibs and shirts at the school and then went back to the truck to get ready.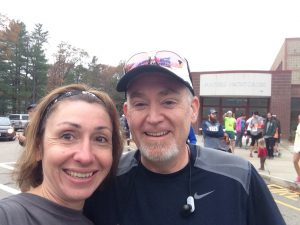 There was no real fanfare at this inaugural race. We all gathered at the entrance for race announcements before heading the the start. The marathon and half-marathon folks gathered at the start line (no timing mat) and set off 5 minutes before the 5K group.  When our group was called, it was quickly apparent that we were missing people. Some had stayed behind in the parking lot as we were told, but I have a feeling that some set off with the first group, which would give them an advantage in terms of getting a head start.
The course was mostly flat with an elevation gain of only 26ft. There were virtually no spectators along the course or at the finish line, aside from family and friends.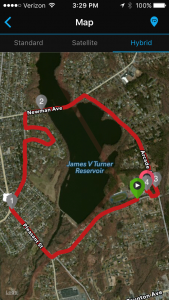 There were a few course photographers along the route,  but none at the start or finish. Thank you for the free action pics!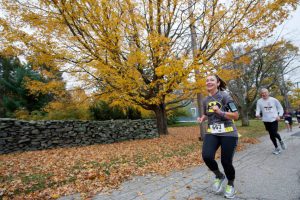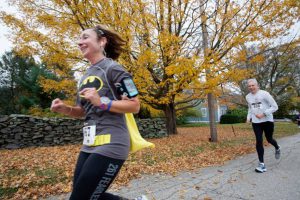 The weather was perfect and I felt good. My goal was not a PR but a strong race given that i was still recovery mode from my marathon. I started out fast, but slowed 14 seconds for mile 2 and then 13 seconds more for mile 3.my overall pace was 8:54 which was fast r than I had been running recently.
18      667       Muldowney, Sandra         27:51.44