1/1/13 – Lowell 1st Run
Is there a better way to start the new year, than with a road race? I don't think so. We had our traditional NewYear's Eve activities with friends and I went to bed around 12:30. An 11am race start was perfect. We parked in a nearby parking lot and immediately started seeing people walking towards the starting line. packet pick up was in the lodge, which was crowded. I got my number, hat and gloves and headed outside.
No t-shirts for this race, but that is okay because the gloves and hat came in handy on this cold morning.
It was a "little chilly" waiting to start.  The starting area was covered in frozen slush, which had me a little worried about slipping, but once we left the parking lot, the roads were clear.
Waiting for the start was the worst and i was glad i wore my jacket until i got in my corral. I was freezing, but did not want to wear my jacket while running.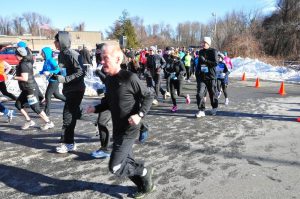 I did start out wearing my blue hood as you can see in the picture. Once I got going, I was not so cold. I liked the loop course, which was fairly flat with one short hill in the beginning. Brian got a chance to use his new Nikon and got some shots of me.
This was taken about half-way through the race – just as the theme song from Rocky began. I liked having official photographers and seeing pictures posted online.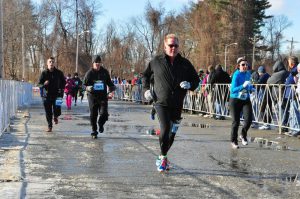 Here I am approaching the finish line.
Someone was a little chilly waiting for mom to finish. I grabbed a cup of water, but we did not stick around after the race for food/drink.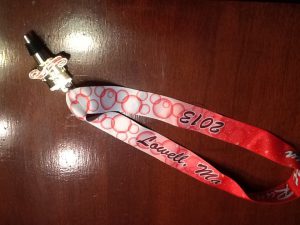 The wine stopper medal, at the finish line, was pretty cool too.  Here are my results.
Lowell 1st run 1/1/13 [1018 runners]
521  86/212  5KF4049    SANDRA MULDOWNEY     Merrimack NH       41 F   533   

31:44.3

 10:13   33:15.8