June 26, 2017
One of my goals for this year was to do more trail running and so, last minute I decided to run this one.
This is the most economical race series ever. You can sign up the day of the race for $5. Of course, it is also a no-frills event – no medal, no shirt, no swag. You even turn your bib number in after the race, so you can re-use it in the future. There are no timing mats, but there is a clock at the start and finish area, although it's not really clear where the start line is. You start behind the Nashua YMCA in the parking lot, in front of Stellos Stadium. From there you run towards the river and into the park through a narrow entrance. It is kind of crowded as you take a right to enter the trail, but the crowd dissipates as the trail widens.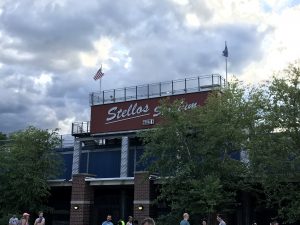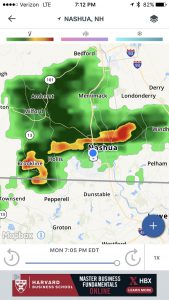 I arrived about 20 minutes before race start so I could use the restroom in the Y as well as do a quick warm up and register. The sky looked ominous, but I decided to go ahead and run anyway. It started sprinkling as soon as we entered the trail and quickly turned into a steady rain.
I went into this race with no time goals, but was pleasantly surprised with my pace. I am sure that the cool temps helped me run faster and it felt so much easier than the day before when I also ran a 5K.
I told myself that I would run by feel and that is what I did. I wore my new trail running shoes and they worked great. I was glad to have them since the trail was pretty muddy. The rain picked up after mile 2 and I could feel myself being more cautious. My contacts were swimming in my eyes and I was so scared that they would just float away with all the rain. I knew that I was slowing down because of the rain and although I knew that my pace had nothing to do with whether or not my contacts stayed in my eyes, I couldn't help myself.
As soon as I was finished, I saw this.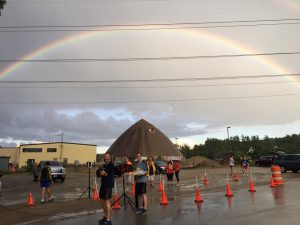 | | | | | | | |
| --- | --- | --- | --- | --- | --- | --- |
| 73 | 7729 | 29.00 | Sandra Muldowney | 46 | F | |
181 runners total